Come to Tarpon Springs for the fishing, stay for the town
Tarpon Springs is one of the most interesting locations we fish, both in terms of the surrounding waters and the town itself. It also actively promotes itself as a winter resort which means all the activities and events will be up and running no matter what time of year you come to fish.
Tarpon Springs is a real hotspot of inshore fishing - the bays, waterways, rocky holes, flats, channels, beaches, creeks and mangrove keys attract all kinds of fish to complement the big 3: trout, redfish and snook.
Pinellas County, the local authority, was one of several counties involved in the creation of dozens of artificial reefs, designed to both create more fishing and diving spots and to supply marine life with much needed habitats. There are 42 of these reefs in Pinellas County alone.
Charter trip starting location
Your fishing trip will start from Anclote River Boat Ramp, located in Anclote River Park. This is less than 4 miles from downtown Tarpon Springs and takes just 6 minutes by car via Pinellas Ave N and Anclote Blvd.
Anclote River Boat Ramp
1119 Baillies Bluff Rd.
Holiday, FL 34691
What fish can you expect to catch inshore?
Book your inshore charter trip now!
Tarpon Springs, of course, gets its name from the tarpon fish. Legend has it that new settlers to the area saw the tarpon jumping from the ocean and so decided to name the town in their honor. Tarpons are famous for their leaping ability and their size and determination make them a prized catch.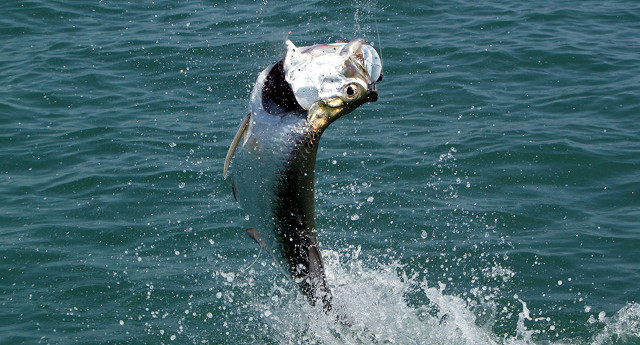 Tarpon season comes round each May and June when the waters warm up and tarpon start migrating along the coast. However, it is possible and sometimes even better to fish for tarpon at other times of the year. If early spring is warm then it is possible to get a jump on other fishermen by targeting tarpon in March and April before the mad rush begins. One of our favorite tarpon fishing spots is around Honeymoon Island, around 2 miles off the coast.
Despite being synonymous with the town, tarpon won't be the most common inshore fish we'll catch. The most widespread species around Tarpon Springs are trout, snook and redfish.
The snook is perhaps the most cherished of all the game fish. Intelligent, a strong swimmer, capable of magnificent jumps and with excellent vision, snook will use every possible strategy to avoid being caught.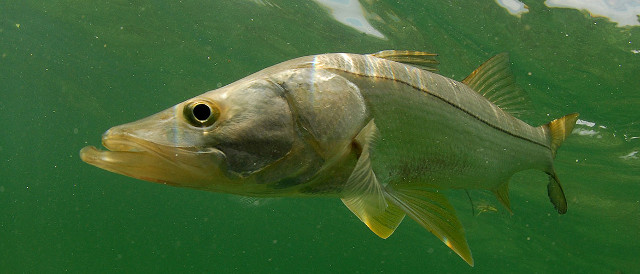 Young snook weigh around 5 pounds. Adult snook can range from 12 to 30 pounds. Snook are more abundant in the summer time as they like the warm waters. We also tend to hook more of them an hour or so before high tide.
Unlike snook, redfish and trout are more available all year round and are actually more sparse during the hottest months.
Redfish are tough fighters but can be successfully caught when approached quietly. From our experience, we've found they love to hang out around mangroves, oyster bars, deep drop-offs and creek mouths. In winter, when the redfish look for warmer climates, we've had a lot of success finding them in the Anclote River.
Trout are hungry fish - they'll constantly bite live or artificial bait. We'll find trout wherever its prey live - oyster bars, grass flats and in and around islands. In the winter months they tend to flee to coastal rivers to escape the cooler water.
Although less popular, you might also get the chance to tackle cobia and shark, particularly in summer and spring.
Deep sea fishing offshore
Book an offshore trip with Captain Dustin
As we head further out from Tarpon Springs (between 10 and 35 miles offshore, depending on the length of the trip) and take our offshore charter boat into the Gulf of Mexico we fish for grouper, snapper, kingfish and mackerel. You may be lucky enough to get a glimpse of other sea life, including dolphins, stingrays, sea turtles and manatees.
When in Tarpon Springs...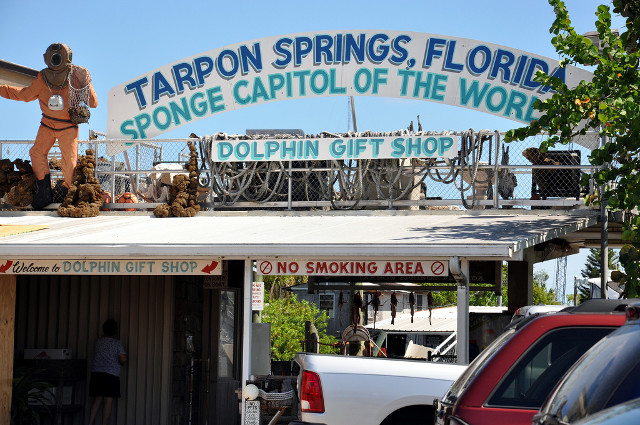 We promise you a great fishing experience on your charter trip, but there's so much more to Tarpon Springs we hope you get to see and explore.
For starters, Tarpon Springs is the sponge capital of the world. 70% of the world's natural sponges are plucked from the sea beds in the surrounding waters (although finding the divers to do so is becoming increasing difficult given the temporary nature of the work and the risks involved).
The sponge docks and the Sponge Exchange village are must-visit places while in town - you'll find shops, markets and restaurants selling all sorts of weird and wonderful sponges, crafts, fashion and gifts.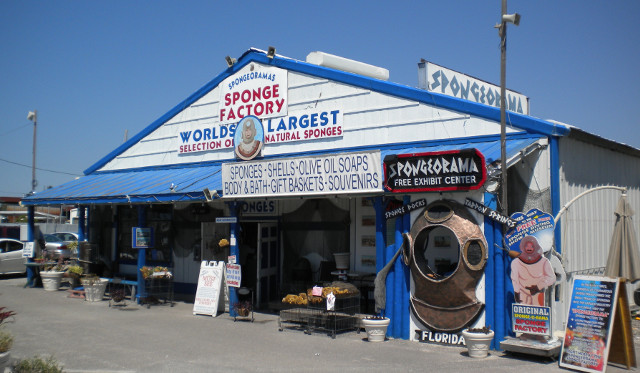 Greek influence
The sponge industry is entwined with the town's Greek heritage. Greek sponge divers were brought to the town at the beginning of the twentieth century and they arrived with an entire industry of boat builders, packers and cleaners. This almost 3000-strong Greek community was central to the town's early years and growth.
Hellenic culture is visible throughout the town. A sizeable minority continue to speak Greek as a first language. Then there's the food. If you need to eat while in town then pay a visit to Hellas Restaurant on Dodecanese Blvd. I've been known to devour the Pastitsio casserole with rice pilaf on the side on more than one occasion. The Bayou Cafe on E Court St also make a mean homemade breakfast if you want to fill up before we start our fishing trip.
If you can't get enough of Tarpon Springs, the Tarpon Springs Depot (an old railway depot) now houses the Historic Train Depot Museum where you can explore more of the town's history.